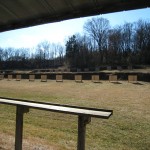 If you wish to become a member of CHMR, the fee is $100 per calendar year. If you join July 1st, your membership is due for renewal 6 months later, on January 1st of the following year. This fee covers the member and the members spouse. All minors shoot free when accompanied by a range member. CHMR is fairly simple compared to most ranges. While some ranges have expensive memberships and hourly rates, CHMR wants to make sure everyone can enjoy shooting. If you want to come shoot everyday of the week, all day long, as a member you can and your only investment is $100 a year.
All patrons of CHMR must either be a member of the CHMR range, or be accompanied by a member. Non member adult guest fee is $10 per visit, per guest.
To apply for membership you must do so in person. Simply come to the range on a day that we are open and pay the fee. If you plan to enroll please review our basic safety rules by clicking here. Bring all your gear if you plan to shoot the day you enroll.